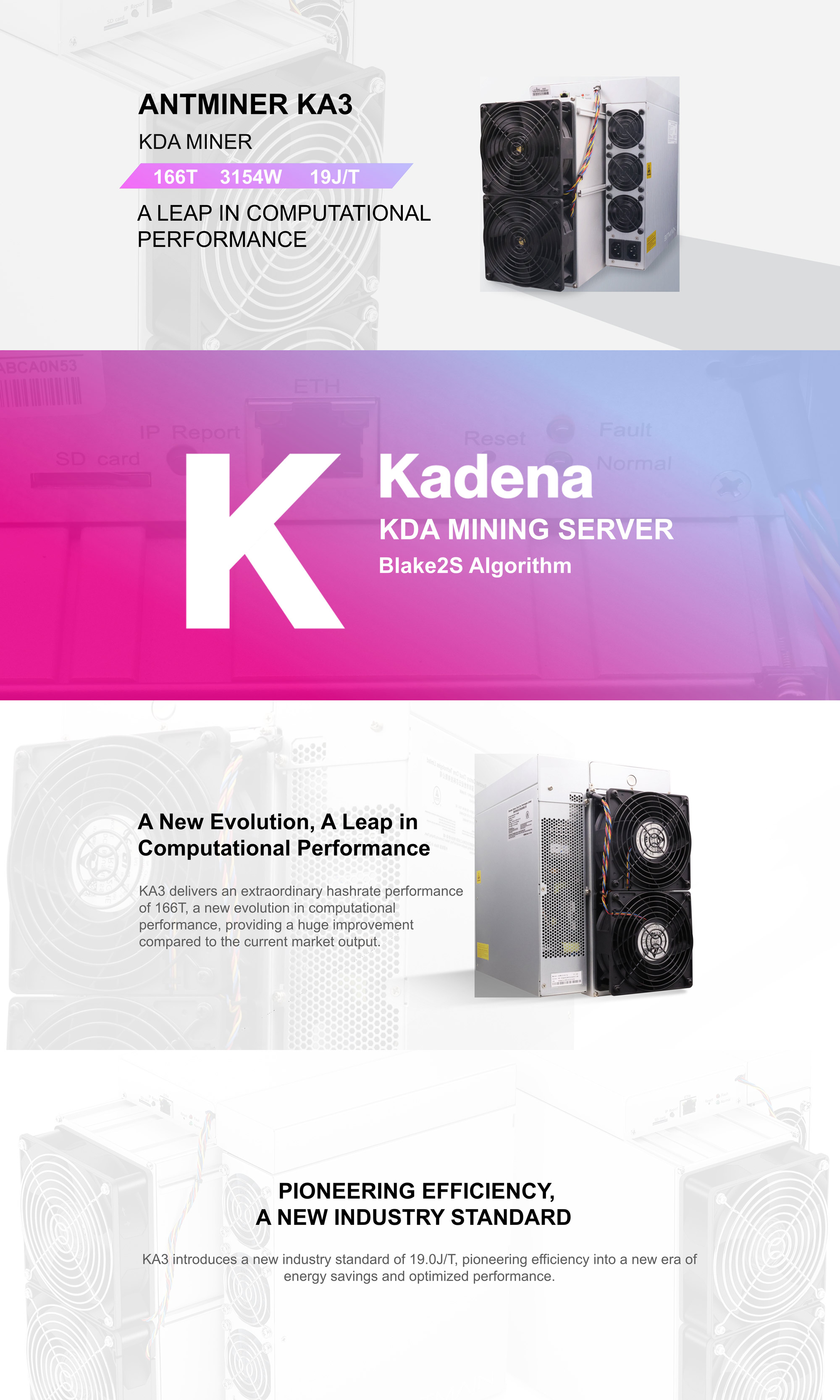 | | |
| --- | --- |
| Product Glance | |
| Model | KA3 |
| Algorithm | Cryptocurrency | Blake2S | KDA |
| Hashrate, TH/s | 166 ±3% |
| Power on wall @25°C, Watt | 3154 ±10% |
| Power efficiency on wall @25°C, J/MH | 19.0 ±10% |
| | |
| --- | --- |
| Detailed Characteristics | |
| | |
| Power Supply | |
| Power supply AC Input voltage, Volt(1-1) | 200~240 |
| Power supply AC Input Frequency Range, Hz | 47~63 |
| Power supply AC Input current, Amp(1-2) | 20 |
| Hardware Configuration | |
| Networking connection mode | RJ45 Ethernet 10/100M |
| Miner Size (Length*Width*Height, w/o package),mm(2-1) | 430*195.5*290 |
| Miner Size (Length*Width*Height, with package),mm | 570*316*430 |
| Net weight, kg(2-2) | 16.1 |
| Gross weight, kg | 17.7 |
| Environment Requirements | |
| Operation temperature,°C | 0~40 |
| Storage temperature,°C | -20~70 |
| Operation humidity(non-condensing) , RH | 10~90% |
| Operation altitude, m(3-1) | ≤2000 |
NOTE:
1.If the user fails to use the product in accordance with the given instructions, specifications, and conditions provided, or change the function setting without BITMAIN's prior consent, BITMAIN will not be liable for any damage arising therefrom.
(1-1) Caution: Wrong input voltage may probably cause miner damaged
(1-2)Max condition: temperature 40°C, altitude 0m
(2-1)Including PSU size
(2-2) Including PSU weight
(3-1)When the miner is used at an altitude from 900m to 2000m, the highest operating temperature decreases by 1℃ for every increase of 300m.
note
1. Accept usdt, usdc, BTC or USD payment. The unit price and total price of the products and the amount paid are denominated in US dollars.
2. The above retail price does not include freight, customs fees and taxes (if any).
3. After the order is submitted, freeboard will not accept the request to cancel the order, return part of the order amount or change the ordered goods to different goods or different batches.
4. The pictures are for reference only; The final delivery version shall prevail.
Delivery details
1. Orders for which freeboard has received full payment for goods will be shipped on a first pay first delivery basis.
2. You shall be responsible for any customs delay or return of goods due to lack of appropriate documents. It is strongly recommended that you understand the local customs clearance policy and prepare all customs documents in advance to avoid delays or unexpected expenses.